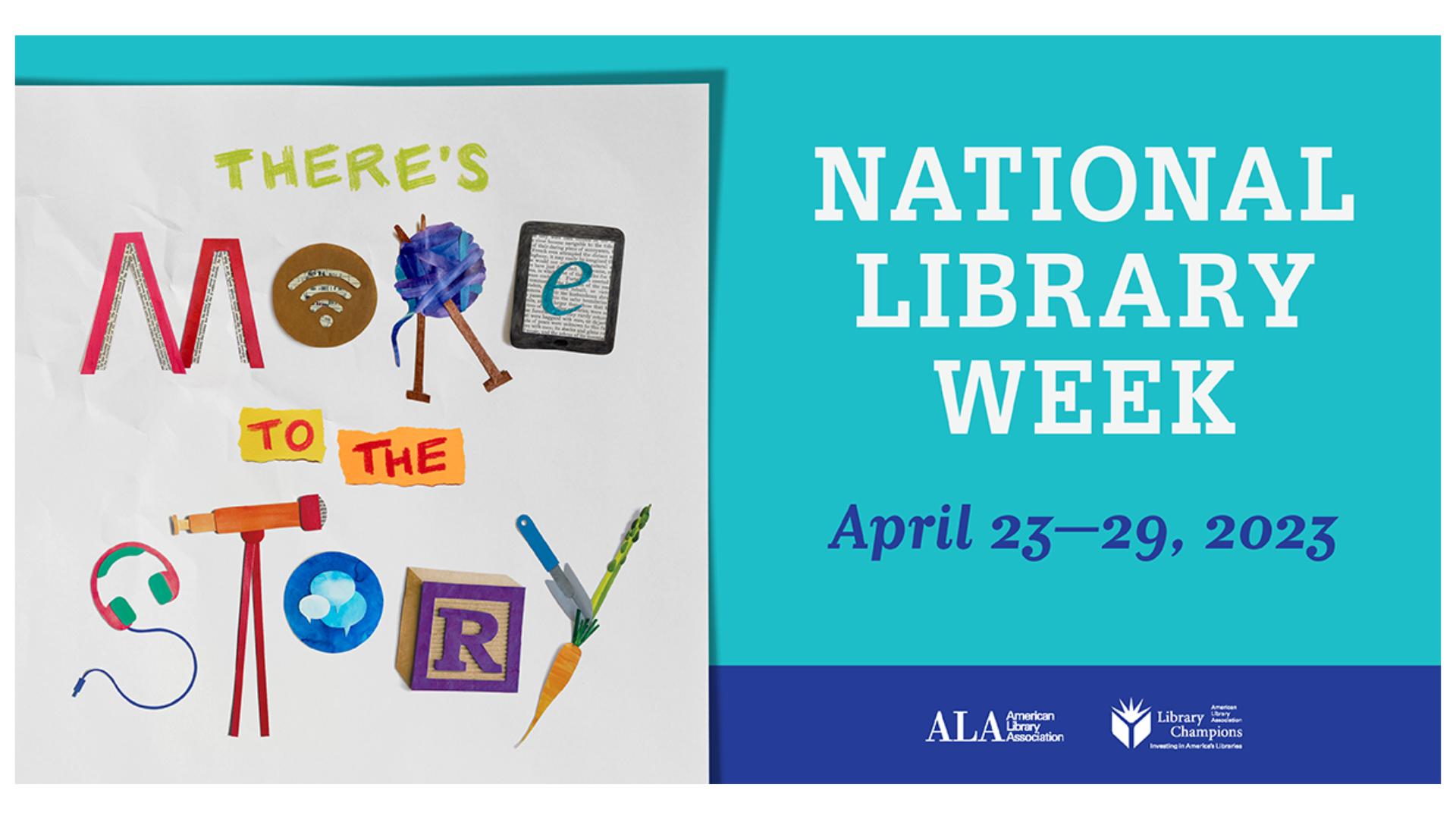 April 23-29, 2023, is National Library Week, an annual observance sponsored by the American Library Association (ALA) and celebrated by libraries and library lovers across the nation. It's a time when the library community comes together to highlight the wide array of programs, classes and resources libraries have to offer and the critical role we play in the economic vitality of our communities by providing internet and technology access, early childhood literacy, and support for job seekers, small businesses and entrepreneurs.
Ways to celebrate
1. Visit your local library
National Library Week is the perfect time to visit your local CCPL branch to check out a book or movie, attend an author event, take your child to a storytime, or take a free computer class.
2. Nominate a star library worker
Tuesday, April 25, is National Library Workers Day, the perfect time to express your gratitude for library workers by nominating one for inclusion in the ALA's Galaxy of Stars.
Check out this list of all of the Ohio library workers who have been nominated.
3. Tell your library story

What role has the library played in your life? Share your story with ALA on Instagram, Twitter, or on the I Love Libraries Facebook page with the hashtag #MyLibraryStory for a chance to win a $150 Visa gift card. Don't forget to tag @Cuyahogalib in your story! Official rules (PDF)
4. Be an advocate
Thursday, April 27 is Take Action for Libraries Day. Join library advocates across the nation and make your voice heard!
5. Make a donation
Our core community programs and services are largely supported by charitable donations. We hope will consider making a donation to help us empower individuals and communities by providing opportunities for all to read, learn, create and connect.
6. Spread the word
Post National Library Week graphics to your social media accounts and join the conversation by using the hashtags #NationalLibraryWeek. Don't forget to tag @Cuyahogalib.
Follow the American Library Association and I Love Libraries on social media!
Twitter: @ALALibrary
Facebook: @AmericanLibraryAssociation Instagram: @americanlibraryassociation
Twitter: @IloveLibraries
Facebook @ILoveLibraries

Download graphics

Instagram Share (English)
Instagram Story Share (English)
Instagram Share (Spanish)
Instagram Story Share (Spanish)
Facebook Share (English)
Facebook Share (Spanish)
Twitter Share (English)
Twitter Share (Spanish)
The History of National Library Week


National Library Week was established in the 1950's during a period of great anxiety over the booming growth of home TV sales. According to the Digital Public Library of America, only a few thousand American households owned TVs prior to 1947. By 1955 – less than a decade later – TVs were a fixture in half of all American homes. That same year the results of a Gallup poll were released with the news that almost two-thirds of adults had not read any book for pleasure in the previous year. Naturally, the library community was deeply alarmed.

Concerned about the long-term implications of Americans using their leisure time for TV viewing rather than reading, the ALA and the American Book Publishers Council formed a nonprofit organization called the National Book Committee (NBC) with the goal of encouraging Americans to reconnect with books. One of the NBC's early initiatives was the creation of a week-long observance aimed at motivating people to read – i.e., National Library Week. The observance was based on the idea that once people were motivated to read, they would support and use libraries. With the cooperation of ALA and with help from the Advertising Council, the first National Library Week was observed in 1958. The theme was "Wake Up and Read!"
The NBC disbanded in 1974 and the ALA has assumed full sponsorship of NLW ever since. The idea of giving NLW an annual theme, however, has persisted throughout the years. This year's theme is "There's More to the Story," an appropriate slogan that hints at the many ways we support our communities beyond books and the indispensable role we play in our country's democracy.